@adamgreenberg10 is the author of Get Up: The Art of Perseverance.
On July 9th, 2005, Adam Greenberg stepped into the batter's box for his first major-league plate appearance with the Chicago Cubs.
No one suspected the triumph of that moment would be obliterated by a 92 mile-an-hour first-pitch fastball striking Adam just under his helmet on the back of his head. The first pitch of his major-league career threatened not only the future of his ability to play baseball, but his life itself.
Get Up is not simply a baseball story or a story about a baseball player. This book is a beginning. No matter what you're doing or what you're facing, Adam offers his story of overcoming adversity and persevering through challenges in hopes of helping you to relentlessly pursue your dreams.
Listen in to Adam to learn:
Why having a positive outlook can help you recover from obstacles more quickly
How to ask for help even if you're too proud to admit you need the support of others
What it takes to persevere through life's most difficult challenges no matter what
Adam, can you tell us about the moment you were hit by a fastball in your MLB debut?
It was Sunday Night Baseball on ESPN, a nationally televised game. It was my dream come true. I had worked my entire life to get to that moment. That moment was supposed to be the start of my baseball career at the major league level.
Then I was hit in the back of the head with a 92-mile-an-hour fastball. My eyes rolled into the back of my head and I said two words three times: "Stay alive, stay alive, stay alive."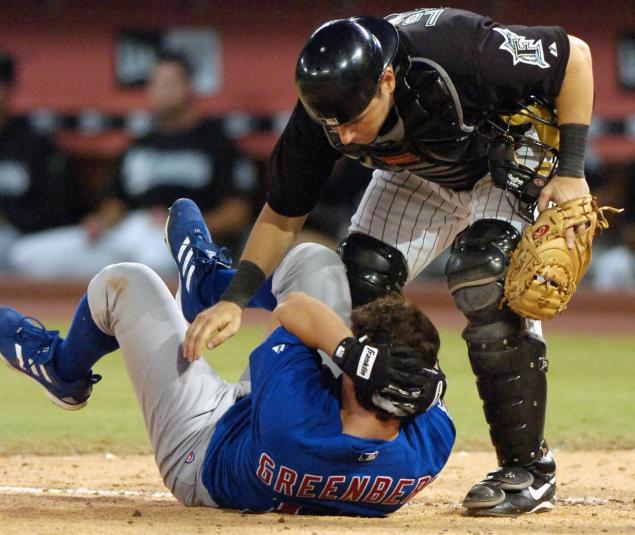 When my vision came back I saw the catcher standing over my body saying, "Stay down, you're going to be okay." That calm in his voice told me my life was no longer in jeopardy.
But the moment that everything started to really change was when everyone else came over. The training staff came over, and they started asking a couple of questions. The basic standard you get when you get hit in the head with a 92-mile-an-hour fastball.
"Hey, how many fingers am I holding up?"
"What day of the week is it?"
But it was the last question that they asked me that I'll never forget.
The question was, "Where were you two days ago?"
"My answer was quick, 'I was in the minor leagues and I'm not going back.'"
At that moment I thought, "I'm going to be fine and nothing's going to really change." Of course, that was the furthest thing from the truth. I had an odyssey of struggles, highs and lows, and an incredible journey that I didn't know was in front of me.
What was going through your mind when you finally made it to the batter's box in an MLB game?
It's a feeling that's almost impossible to describe. It was the culmination of many years of overcoming obstacles.
There are only 750 guys in the major leagues at any one time. Of the millions and millions of people that play baseball and share the dream of stepping into the batter's box at a major league game, I was an unlikely candidate. I'm five-foot-eight-and-three-quarters, white, and a Jew from Gilford, Connecticut.
The odds were not necessarily in my favor to begin with, and I'm not even talking about the physical attributes required to be a major leaguer.
So when I finally got the call and it was finally my day, I was the happiest human being on the planet at that moment. It was so real, I did it, I accomplished my dream.
On the other hand, it was also calming because I thought, "I'm supposed to be here, I'm ready for this opportunity, and I'm excited." I just felt incredibly relaxed in the sense that I could now say, "This is my time."
How did your injury affect you in the days after the accident?
The ensuing days were filled with ridiculous headaches, nausea, and a very acute sensitivity to light. I would black out and my eyes would shift uncontrollably from side to side.
Right off the bat, everyone said it was a concussion. Of course, I'd never had a concussion before so wasn't able to tell if my additional symptoms were a sign of something worse or just a "post-concussion issue."
It took 17 doctors to finally diagnose me with benign proximal positional vertigo that lasted for two and a half years. In addition, I suffered from short-term memory loss and focusing issues.
I had some vision problems in terms of how my eyes would work together, and that took about two and a half years to correct with therapy.
It was literally a whole plethora of issues and symptoms that I needed to work through one at a time.
It was such a trying, challenging time because I was misdiagnosed for so long. I had obviously suffered a concussion, but it took a really long time to figure out what was causing all these other symptoms.
After a while, I really started to question myself, "Am I really okay? Am I ever going to be normal? Am I ever going to play at the level that I was playing at before?"
Can you tell us about the moment when you realized you may never play baseball again?
I came back 21 days after my injury and they said, "If you're symptom-free for 72 hours, you can get back on the field."
Well, I knew what brought on my symptoms. So, I put a neck brace on for 72 hours, sat in a reclining chair, and slept. The only thing I did was stand up to go to the bathroom very cautiously over the next 72 hours.
Once I had gotten rid of the "symptoms," I went on the field and I played my first game. The next morning when I woke up, I rolled over in bed and my eyes shifted uncontrollably. I left home with a migraine and ended up back in the hospital.
I'd say it was that day when I was in the hospital. I remember thinking, "My god, is this what I'm going to have to live with for the rest of my life?"
At the time I wasn't married and didn't have any children. I'm one of five children so I had my parents and my brothers and sisters that I would be able to call and talk to.
But truth be told, it was a very lonely time because while there was support, there was also this sense of concern from everyone I talked to because they would be asking themselves, "Is he okay? Is he going to be okay?"
I talked to a therapist which was not helpful. It actually made it worse for me because the advice I received was basically, "Hey, you just have to suck it up and do it."
I wanted nothing more than to be on the field. This is not a "poor me" because not to mention, I was not even on the major league roster at that time. I got taken off when I played my first minor league games so I wasn't collecting a major league salary, I wasn't collecting service pays.
I had no reason to fake those symptoms, so that was a really tough, challenging time even for those friends and supporters around me.
What was it like to finally get a correct diagnosis?
I think that was the most important thing in my mind. I wanted to play major league baseball.
Any of the obstacles that I was facing, as much fear as I may have had, I knew in my heart and I felt it and I believed it: I was going to overcome it. It was just a matter of time; it was just a matter of someone showing me the next steps to take.
As soon as I was properly diagnosed, it was a very freeing feeling because at least I then had something I could put my finger on and work toward improving.
I could start that process of healing.
"But it's funny, at the beginning I was always looking for this breakthrough moment. This one moment where everything aligns and everything just clicks back into place. Of course, that never happened because those "aha!" moments are happening all the time."
When you continue to put yourself out there and you continue to persevere no matter what is in front of you and what you're facing, you experience this amazing gift.
Every time I got knocked down, whether it was because of surgery or because I was going through a particularly hard time with symptoms, I'd often feed off of words of encouragement from people around me.
Those are the little things that matter because your ability to persevere is dependent on those little things. You have to pull on all of those little positive things happening around you to continue to push yourself in a positive direction.
"The purpose of my new book is to say, there will always be challenges that we face, there will always be obstacles. The greater the goal that you have, the more obstacles you're going to face."
They come in all shapes and sizes and what you do when each one of those is presented in front of you, is ultimately what determines whether you'll be successful or not, even if, as in my case, it's not the success that you first expected it to be.
Success is in the journey; it's what you do when you're presented with each new challenge in front of you along that journey.
How can someone persevere when life tries to crush their dreams?
It's actually very easy because every single person has two things that are inherent to them. The first is that we are all born with the ability to persevere; otherwise, there wouldn't still be a human civilization. So, every person is born with the ability to persevere.
The second thing that we each have is the want and desire to be happy.
When life goes and makes a dent in your goals or dreams, it's not the end of the world. I don't need to play in the major leagues to be happy.
Every day, we each have two choices we can make; we can remain where we are and feel sorry for ourselves, or we can pick ourselves up and go with our lives. It doesn't matter what happens to you, the clock is going to keep ticking. We all have the ability to do something positive with the time we still have.
Did your injury impact your mental health?
I got down. I'm a human being after all. You get knocked down and you're told, "Hey, just suck it up, you'll be okay." Well, no, I'm not okay. I had to file for bankruptcy because I gave everything in my world to the game of baseball and the pursuit of trying to get back to the major leagues.
I got released by multiple teams. I was released by one team and all of my bags were shipped off to Arkansas. I was left in Arizona with no clothes and no money. That sort of stuff really affects you emotionally.
But my life has been filled with an unbelievable, amazing set of circumstances that just for me personally are priceless. I'll give you two examples:
One, I got called up to the major leagues with the Chicago Cubs in July of 2005, it was a dream come true. Of course, it didn't end well, I was hit in the back of the head with a 90-mile-an-hour fastball. The happiest, best moment in my entire life was, at the exact same instant, the worst moment in my entire life, I'm struck with a devastating blow.
Here's another example. Earlier this year I had the opportunity to throw the first pitch at a Chicago Cubs game. It was 12 years to the day of when I got the phone call to come up to the major leagues. It was a sold out game, it was a Friday afternoon. I was there with my son, he was 18 months old, he's on the field, he's got a little bat, I'm on the pitcher's mound, it was like a storybook. It's something I'll get to cherish forever.
But then I go into the stands and about 45 minutes later I get a phone call telling me that my best friend's 10-year-old son had gone missing and they'd since found his body after he drowned.
So instead of enjoying that day, I had to go to the airport and fly home knowing that my friend had just lost a son.
The point of these examples is to say that life is going to be challenging even during your greatest, happiest moments.
It's how we react to life's challenges that is important.
In situations like these, like when my friend lost his son, you have to keep moving forward. He and his wife had a choice to make. Do they just dig a grave and jump in themselves? Or do they cherish the time that they still have with their two other boys?
It's really about having an understanding of and an appreciation for life and what we've been given. Each of us has been given a gift and it's up to us to make the most of it.
As a human, I've gone down and I've been down both physically and emotionally but I got myself up and I've been helped up. My mission, and my goal, is to be there to help and support and literally get people back up on their feet, and that's what I hope to do with my book.
How can we ask for help when we're down?
That's a really good question because the truth is, it comes down to self-esteem.
It's all about setting and achieving little goals because each step you take forward after suffering a blow, you accumulate positive self-esteem. When it comes time to ask for help, it's much easier because you have that positive self-esteem.
"At the end of the day, the only reason we don't ask for help is that we're too proud or our self-esteem gets in the way. Either one is okay, and both can be overcome. Sometimes it takes hitting rock bottom to get over our proudness."
Other times all it takes is sitting down and listening to other people talk about their own struggle. There are happiness clubs throughout the country. So go join the happiness club for free and listen to speakers that have lived overcome adversity.
How can I join a happiness club?
To be honest, just Google it. Google "happiness clubs" in your area and you'll find them. I've been to one where we had probably 120 people at the local library.
They usually run once a month. It was really neat to be in that type of environment with people pro-actively seeking a happier lifestyle.
What feedback have you gotten for Get Up so far?
Well, it's been really interesting because the audiences that I've spoken in front of have been so diverse. From little league teams to elementary school kids, to juvenile detention centers, the Better Business Bureau, synagogues, other religious organizations, the list goes on…
There's obviously a range of people in there, but overall, people are inspired, they're re-energized, they feel motivated, and they feel like they have value and a purpose again.
That's inspiring for me because I can say, "Well, my journey, what I went through, is able to make people feel that way, like they have another shot at life." There's no greater feeling.
I'll give you one specific example though. There was a kid, I talk about him in the book, who was struck in the head with a pitch at almost the same time that I was. He was just a kid though and his father was trying to get me to sign a ball or a hat for him.
When I first heard about what had happened I immediately reached out to him despite having no real connection to him previously. So, I called him and we established a friendship because I could relate to what he was going through.
Over the years I've continued to push the message to him that he will improve and he will get better.
I tried to foster a positive attitude in him because keeping a positive outlook no matter how dark and grim things get can be the difference between success and failure.
His parents even told me that he had been contemplating suicide, so had I not connected with him and had we not established that connection based on his understanding of what I went through and was able to overcome, he might not be on this earth.
Today, he's a tremendous drummer, he's an amazing kid and a great person. That alone is worth every struggle I ever went through to be able to impact a child like that.
What would Adam Greenberg's advice to aspiring author's be?
Stay true to yourself and true to your message whatever it is you're looking to get across. That could be a fantasy, that could be an autobiography, that can be an inspirational book, it can be a book on business–stay true to yourself and your belief of what message you want to get across.
As you know, there are editors and all sorts of things that get involved which is all great, great things but at the end of the day make sure you keep that sense of trueness to you because it's your work.
Regardless of the success, you want to feel empowered by what you put out there and that's where I can say for me nothing is sensationalized, nothing is glorified. I feel 1,000% happy and confident with what I put out there.
How do you want people to use your book?
I want people to read it and to take control of their own lives by setting goals and by understanding that good things are going to happen when you continue to push through obstacles that are in your way.
Then, truly, I want people to use the book as a gift. Use it for yourself and then pass it around. Tell someone who may need it to go buy it. Share your own story with others as you go through your journey and be open to other's stories.
"For me, it's not about how many copies can I sell, it's about how many people I can help with this book."
Whether it's being read in its entirety or being used just for the keys to perseverance or for stories of overcoming obstacles, I'll be grateful if people are using the book to put themselves in a better, happier state of mind.